Save 10% to 30% with our comprehensive, premium-quality venue signage packages
You simply tell us the visual-communications material you need for your event; we make it all happen without fuss or stress for you and your people.
PRE-EVENT
Planning & design
Material choice
Printing & manufacturing
EVENT
Logistics
Delivery
Installation planning
POST-EVENT
Inventory report
Barcoding & warehousing
Shipping to next event
You'll save yourself a heap of money — and a pile of stress!
Turnkey service
Fixed price
Zero effort
Complete, turnkey signage solutions
Our vis-comms packages include venue dressing, directional signage and decals. We give special attention to signage in venue areas that receive the most traffic.
How we can save you more money
Smart substrate and
printing choices
to optimize input costs
Superior project and lead time
management to eliminate rush
printing and expediting
Strong sustainability
focusing on reduce, reuse
and recycle principles
We project manage everything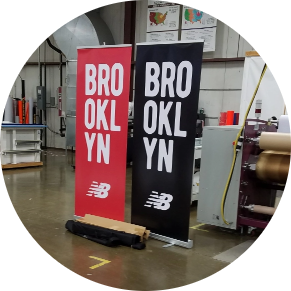 Venue Dressing.
Table coverings, banners, fabric of
presentation-level quality.
Decals.
Floor, wall and door decals.
Roadside signage.
For spectator and participant navigation
and crowd control.
Vast experience supplying events across the USA and internationally. Let us coordinate all
your event signage. You'll save yourself a heap of money — and a pile of stress!
Tell me more about complete turnkey signage solutions.